Characteristics of Office space in Umhlanga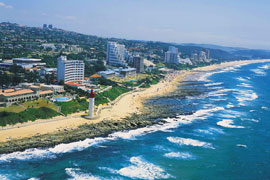 Do you want to sit down to a meeting in the boardroom overlooking the surf breaking on the Northeast coast, if that sounds like a great backdrop to do your business Umhlanga is the place for you to buy commercial property.
Umhlanga is currently considered a hub for corporations based in Durban and those based in Pietermaritzburg just inland of the resort town.  Many companies from Durban have already made the switch to the northeast coast. There are a number of amazing offices located in high rise towers overlooking the pristine waters of the Indian Ocean. The Umhlanga area continues to be a destination of choice for office users, with more and more corporate companies seeking space in this growth node, which offers appealing and secure, modern premises in a conveniently accessible business hub. Other popular nodes include Durban North, Morningside and Westville. In Umhlanga leases commonly range from about 60 to 200 square metres in size, although enquiries for 300 square metres and upwards are also received.

Tenants and investors are turning to Umhlanga to find good quality investments, good quality property, high security, blue-chip retail space. Umhlanga is located near King Shaka International Airport which allows your international company executives an easy commute to your new corporate head quarters away from the hustle and gridlocked Durban.
It is easy to impress a client when you meet him when your office is overlooking the ocean, you can shake on your deal overlooking a stunning sunset and be confident in your relocation to Umhlanga.  What are you waiting for, Umhlanga is waiting for you with her pristine beaches and relaxed attitude.
For commercial property to let, buy or sell in the Umhlanga area as well as the rest of South Arica contact Cenprop.co.za